Local of typical German artisan cuisine
.
Local of typical German artisan cuisine
.
Local of typical German artisan cuisine
.
Typical German food and non pasteurized Bavarian beer
La Baita Biergarten is a typical German restaurant that serves exclusively dishes from this origin. Every dish comes with a story – from the bavarian sausages "Würstel", to the original pork knuckle and also way up north, the marinated herring filets.
The majority of the recipes have been handed down from the great grand mother of family Neumann – Elisabeth Hennies, other recipes come from a cook book from 1920. The motto of the kitchen is "back to the roots", authentic original cuisine from back in the days.
To ensure that our dishes are as authentic as possible a lot of products are imported from Germany from curated suppliers who after many years of collaboration have turned into family friends.
The beer served in the premises is exclusively "Engelbräu" – a Bavarian beer which is not pasteurized and which is brewed according to the Bavarian law of purity with only three ingredients; water, hops and malt.
The brewery is located in Rettenberg in Algovia, Bavaria. A tiny town close to the city where Family chief Thomas and the two daughters were born.
Engelbräu was founded in 1668 and is still nowadays a privately owned business run by the Family Widenmayer.
In the restaurant a variety of their draught beers can be tasted; "Hell" (a blonde Lager style beer), "Weiß" (a wheat beer) and "Dunkler Doppelbock" (a strong dark beer). In addition to this other varieties are offered in bottle as monthly specials.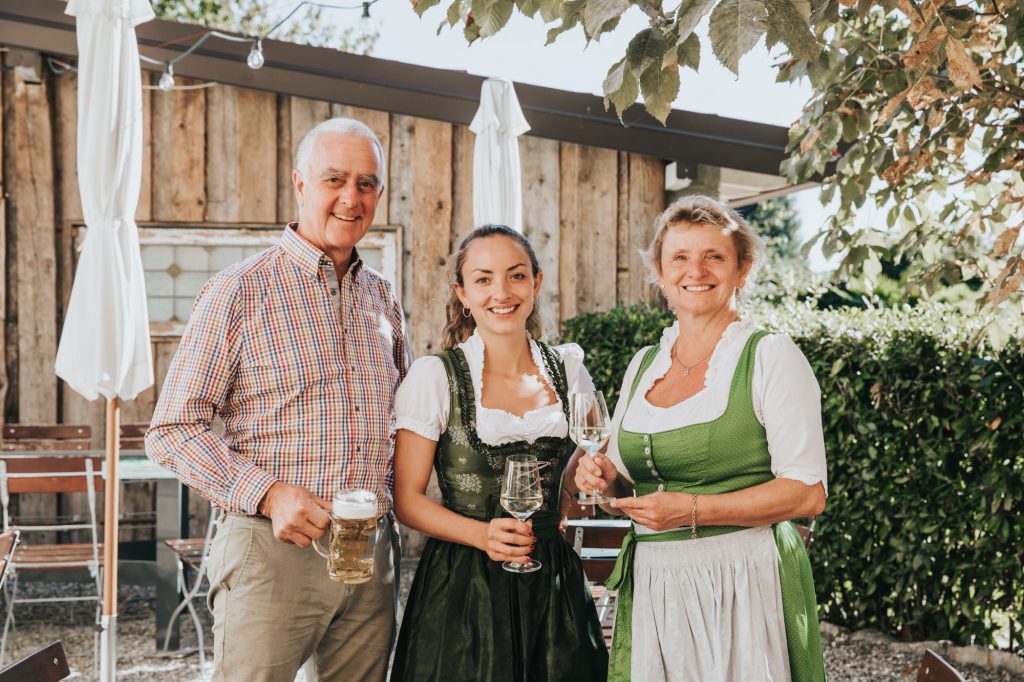 The design of the restaurant is quite particular. The walls are covered in wood which has been recycled from a old demolished hut in the Algovian Alps. The tables, chairs and benches are all handmade by a Algovian carpenter Charlie Bonnes.
During the renovation of the house the owners tried to keep and recycle as many historical elements as possible, for example the old ceiling at the entrance of the restaurant, or the old beams from the old roof, which have been reused to create the veranda in the Biergarten.
The photos on the walls are all from the Algovian region by a Algovian photographer Lala Aufsberg (1907-1976).